Sidebar
Planning Advice
The ever-popular bridal registry can make gift-buying a snap for your wedding guests. More and more stores now offer bridal registries, from Home Depot to Target to Macy's. If you have a favorite place to shop, ask if they offer a registry. Some stores like you to make an appointment to register, but many times you can simply walk in and create your registry. One to three different store registries are adequate for most couples.
When registering, choose colors and styles that fit your lifestyle and entertaining preferences (BBQs, formal dinners or potlucks?). Select items that you'll actually use. If you are meeting with a sales associate, they can help you tailor your registry to the number of guests. Be sure to include a variety of price ranges, from a $15 knife to a $150 place setting. Register for 8 to 12 settings of tableware.
Table Linens
Tablecloths
Cocktail Napkins
Luncheon Napkins
Dinner Napkins
Place Mats
Glassware
Tumbler
Tall Glass
Water Glass
Champagne Flute
Wineglass
China or Formal Tableware
Dinner Plate
Cup/Saucer
Cereal Bowl
Salad/Dessert Plate
Charger
Sugar Bowl
Creamer
Soup Plate
Platter
Covered Vegetable Dish
Gravy Boat
Teapot
Pitcher
Casual Tableware
Dinner Plate
Salad/Dessert Plate
Cereal/ Soup Bowl
Cup/Mug
Saucer
Cookware
10" Frying Pan
Saucepan
Double Boiler
8 Qt. Stockpot
Steamer Basket
Kettle
Skillet
Shallow Roasting Pan
Wok
Omelet Pan
Dutch Oven
Sauté Pan

Flatware (Silver and/or Stainless)
Knife
Fork
Spoon
Soup Spoon
Steak Knives
Cutlery
Servers
Bakeware
Casserole Bowls
Cookie Sheets
Mixing Bowls
Muffin Tin(s)
Baking Stone
Appliances
Juicer
Coffee Maker
Espresso Machine
Coffee Grinder
Toaster Oven
Blender
Food Processor
Mixers
Waffle Iron
Pasta Maker
Microwave
Bed Linens
Fitted Sheets
Flat Sheets
Pillowcases
Pillow Shams
Duvet
Duvet Cover
Mattress Pad
Blanket
Quilt
Bed Skirt
Bath Linens
Washcloths
Guest Towels
Hand Towels
Bath Towels
Bath Sheets
Bath Rug
"Other" Items to Consider: electronics, sports/camping equipment, and yard and garden tools.
Unfortunately money doesn't grow on trees. So at some point you'll have to harness your wildest wedding imaginations to the reality of a budget. Making some smart decisions up front can help keep costs under control.
Here are some of our favorite budgeting dos and don'ts.
DO...
Decide what's important to you
Chances are you can't have everything, so prioritize. Always wanted to feel like a princess? Get that elaborate dress. Do you and your friends love to party? Splurge on an open bar and a great DJ or band.
Limit your guest list
The higher your guest count, the higher your overall food, drink, favor, and location expenses. Who do you really want to share your wedding with?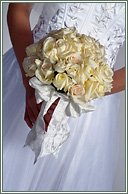 Pay attention to the small things; they add up
When selecting invitations, avoid oversized envelopes and pay regular postage. Borrow the toasting glasses. Give your guests just 1 entrée selection. Think about renting a wedding gown. A couple hundred dollars here and there, adds up to thousands in the end.
Do things yourself
Odds are you know some talented people, including yourself. Think about making your own favors, addressing your own envelopes, or having an organized friend be your coordinator. Don't be afraid to harness your family and friends' skills to help cut costs.
Be flexible on the flowers
Choose flowers that are in season and ideally, grown locally. Avoid roses and orchids, as they are always pricey. If you have to have the perfect type of flower and color, you may find yourself paying for imported flowers from South America.
Consider an earlier wedding time
Food and beverage costs at the reception are normally the biggest wedding expense. You will find location, alcohol and food expenses are usually more reasonable in the morning.
DON'T...
Don't skimp on the honeymoon
It's easy to forget about the honeymoon in the excitement of planning your big day. Keep in mind, the wedding is just 4 or 5 hours, where the honeymoon can be an amazing week of playing.
Don't spend too much on your wedding and regret it later
This might sound obvious; however, budgets and weddings seem to get bigger and more expensive as the day grows closer. Make a realistic budget and stick to it. Avoid the lure of putting spontaneous expenses on a credit card to pay off later. Later will come around and you will wish you had that money to cover the car payment, the student loan, a down payment for a house...
You want a glorious wedding, regardless the style you choose. Looking at the real cost of the ceremony and reception can help you make informed decisions to create your special day without unexpected costs surprising you and ruining your budget.
The costs listed below reflect a wide range because they depend greatly on the style of your wedding (formal, casual, outdoor, chic), the number attendants in the wedding party, and the number of guests. However, the figures were based on averages found among vendors in the Portland Metropolitan Area.
Something to Consider
In Style Weddings Magazine recently reported that the average 2000 wedding will cost $25,000 to $27,000. Knowing where to allocate that money can be helpful. Modern Bride's February 2000 issue offers a guideline:
| | | |
| --- | --- | --- |
| 50% | | Reception |
| 10% | | Music |
| 10% | | Flowers |
| 10% | | Wedding attire |
| 10% | | Photography |
| 4% | | Stationary |
| 6% | | Extras (includes rings and rehearsal dinner) |
When you decide on a top figure, using the above percentages can guide you in how much to spend in each area. Also, the 50% allocated for the reception would be for a more formal sit down or buffet type event. If you go less formal, you can increase the percentage in the areas you decide are most important.
Location, Location
The options for your ceremony and reception locations are numerous.
Non-denominational church -- $100 to $650, depending on its popularity
If it's your own church -- a minimal cleaning fee ($50 to $100)
All-Inclusive Wedding Chapel -- $875 to $2,795 (the upper end figure did include silk flowers, cake, photography and keepsakes).
Reception hall Only -- $300 to $850
Backyard/Park -- $100 to $300 (for tent/table/chair rental)
Isn't She Lovely
Options for a wedding gown are limited only by your imagination.
The traditional dress -- $300 to $1,500+.
A simple elegant suit -- $200+.
Altering your mother's dress -- $75 to $100.
Renting a gown - ½ the cost of the dress, + cleaning.
The cost varies depending on where you purchase the dress. The above traditional dress figures were quoted from a wedding boutique. But department stores are also an excellent place to shop for your wedding attire.
The crown varies depending on how elaborate it is.
Flower wreath/tiaras -- $35 to $45
Headpiece/veils -- $85 to $200.
You can also count on some additional items that you will want to purchase:
Garter -- $8 to $40
Handkerchief -- $10 to $20
Money Bag -- $20 to 40
Flowers Or --
You can expect to pay, on average $500 to $1,200, for flowers. The end amount will depend on your fancy, number of attendants, guests, and how formal the affair. Your bridal bouquet can cost anywhere from $75 to $150. Your attendant's bouquets, $40 to $75 each. Often times, the bouquet you toss is included in your package from the florist.
Boutonnières for the groom and his groomsmen, $4 (simple carnation) to $8 (two roses). The altar flowers, $75+ each. Pew flowers, $50-$75 each. Reception table flowers, $40 to $150 each arrangement.
Silk flowers are often just as expensive as real flowers. The same amount of time and labor goes into the creation of the bouquets, and many silks are so well done these days its hard to tell the difference.
But flowers are becoming less of the focal point at receptions and you may opt for candles instead, or a mixture of both. Renting plants is an option ($4-$6 per plant). Or a reception hall filled with balloons, about $1 a piece.
Get Me to the Church...
The mode of transportation to the church and the reception are often just as important as the ceremony and can lend to the overall ambience of the day. Here are a few suggestions:
Limousine -- $300 to $500/4 hours.
Town Car (an intimate choice for the bride and groom) -- $85/24 hours
Horse drawn carriage -- $215 for the first hour ($100 thereafter).
Let the Party Begin
A formal sit down dinner will cost, on average, $20 per person. A buffet, $8 to $15, depending on the options you offer. A catered event -- $6+ per person. Keeping selections to a minimum saves you money.
There are many alternatives though.
Brunch following a morning wedding.
A sophisticated cocktail party.
Dessert reception (cake and punch), keeping the reception short... and sweet.
A lighthearted afternoon tea. (Perfect for a garden party.)
Taking the Cake
On average, the price of the cake can be broken down to $2 per slice. For a two-tier cake that serves 55 people, the average price is $110. For a three-tier (serving 110 to 120 people), $180.
However, quotes from a specialized bakery were higher: $115 to $220 for the same sizes listed above.
An option worth considering if you have a lot of guests -- a small tiered cake for cutting and photographs, and several sheet cakes for serving.
There are additional costs as well to consider.
Porcelain cake top -- $35 to $50.
Cake charms -- $30 to $35.
Cake server and knife set -- $50 to $75.
Everyone Say Cheese, Please
A photographer will cost $775 to $1,600, depending on how long you want the photographer at the wedding/reception, and the number of pictures you want in your package.
A well-produced video will cost $1,000 to $3,000. The cost depends on the amount of editing, special effects, and the number of cameras.
The Sound of Music
Music is an important part of the ceremony, as well as the reception. Although there are many variations, from a string quartet or trio, to a guitarist, I have listed a few of the more common choices:
Pianist/Organist for ceremony, $50 to $100
Soloist -- $50 to $100
DJ, $100 per hour/3 hour minimum
Live band -- $750 to $1,500 (3-piece versus a 5-piece band)
Consultants
If your wedding is going to be large and complex, hiring a consultant may be well worth the time and organization that are gained. For a consultant's expertise, expect to pay a percentage of the total budget (average - 10%).
However, if you're a do-it-yourself type, you might want to consider hiring a consultant to give you occasional advice, which costs approximately $25 to $35 per hour.
Consultants can also be hired to facilitate the events on the actual day of the wedding - usually at an hourly fee. Or you can hire them a few weeks prior. They can send out confirming letters to your vendors, arrange for arrival times of the flowers, etc., and be on site to deal with any problems that might arise. That way you can rest easy and tend to the sole task of getting married and enjoying the culmination of your hard work and planning.
SUMMARY OF COSTS
LOCATION

Non-Denominational Church

$100 to $650, depending on its popularity

Your Own Church

$50 to $100 (cleaning fee)

All-Inclusive Wedding Chapel

$875 to $2,795

Reception Hall Only

$300 to $850

Backyard/Park

$100 to $300 (tent/table/chair rental)

WEDDING ATTIRE

Traditional Wedding Dress

$300 to $1,500+

Simple Elegant Suit

$200+

Altering mother's dress

$75 to $100

Renting a gown

½ cost of dress, + cleaning

Flower wreath/tiaras

$35 to $45

Headpiece/veils

$85 to $200

Garter

$8 to $40

Handkerchief

$10 to $20

Money Bag

$20 to $40

FLOWERS

Bridal Bouquet

$75 to $150

Attendant's Bouquets

$40 to $75

Boutonnieres

$4 to $8

Altar Flowers

$75+ each

Pew Flowers

$50 to $75 each

Reception Table Flowers

$40 to $150, each arrangement

Plant Rental

$4 to $6

Balloons

$1 a piece

TRANSPORTATION

Limousine

$300 to $500 / 4 hours

Town Car Rental

$85 / 24 hours

Horse Drawn Carriage

$215 / 1st hour ($100 thereafter)

RECEPTION

Sit Down Dinner

$20, per person on average

Buffet

$8 to $15, per person

Catered Event

$6+ per person

CAKE

2 Tier Cake

$110 to $115

3 Tier Cake

$180 to $220

Porcelain Cake Top

$35 to $50

Cake Charms

$30 to $35

Cake Server/Knife Set

$50 to $75

PHOTOGRAPHY/VIDEOGRAPHY

Photographer

$775 to $1,600 depending on package

Videographer

$500 to $3,000

MUSIC

Pianist/Organist

$50 to $100

Soloist

$50 to $100

DJ

$100 / hour (3 hour minimum)

Live Band

$750 to $1,500 (depending on size of band)

CONSULTANTS

Full Service

10% of Budget (on average)

Hourly

$25 to $35